Water Mitigation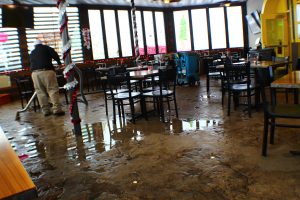 Your water pipe could burst while you are sleeping, the sump pump can fail during a heavy rainstorm, or your kitchen sink can be leaking for a few weeks without you knowing it. Water damage can strike at any time, that's why we are here to strike back for you! Our water mitigation professionals will come to extract the water, set equipment and monitor the process daily. If repairs are necessary, we can do that too. We are your one-stop-shop for water mitigation. Our job is to make this devastating situation as painless as possible. There's no need to search for multiple companies to dry out and repair your property, one call and Swartz does it all!
Water Mitigation Process
Water damage could leave your floor, walls and ceilings saturated depending on the location and the amount of time the water has been sitting. The longer you wait to dry out your property, the costlier it gets. The best thing that you can do during a water loss is taking a step back and calling us. Although some people are trying to help, they could end up costing you more money by giving you misleading advice. Let our professional team assess the damage and dry out your property. Our main goal is helping you in your time of need. The faster we get there, the more likely we can save your building materials without having to replace them. By contacting your insurance company and getting a claim started, having a conversation with your agent so you understand your deductible and policy limits, can help speed up the process and get you back to normal. Our prompt and courteous team are available 24/7, for emergency water losses.