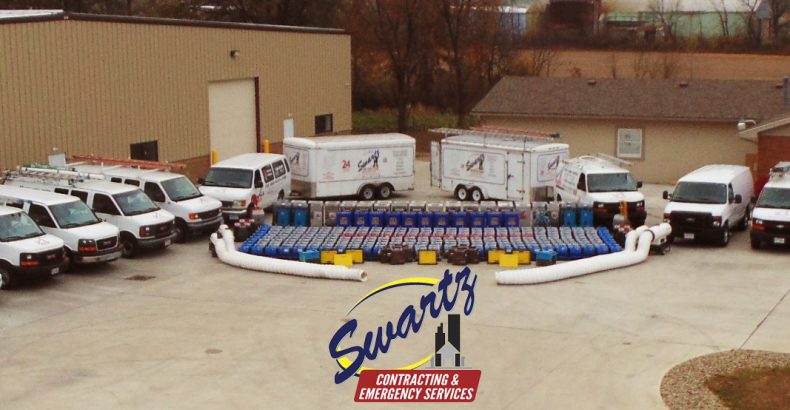 The Beginning
After trying out different career paths such as accounting and working for two different local construction companies, Paul Swartz created the company Swartz Contracting in May of 1987. Shortly after starting the business, Paul landed a roof repair job in Gomer. This job lead Swartz Contracting to be a general remodeling company. After a period of time doing general remodeling work, Paul then transitioned to building custom homes for clients. While building custom homes and being a general remodeling company, Paul thought about how he wanted to make the company grow. With this thought in mind, he decided to shift the company towards restoration.
Working with Insurance Companies
While out on a roofing job, Paul met with an insurance adjuster and they began to talk. The conversation peaked Paul's interest in the insurance claim restoration business for home owners. By adding insurance claim restoration to Swartz's specialties, Paul brought in a Marketing Team to market this new service they provided. Noticing that some insurance claim restoration homes were caused from fire damage, vandalism and/or vehicle impacts, Paul came up with the idea to add Emergency Services to the company's skills set. This made it so that if there was a fire or vehicle impact, they could do the board-up on the spot to secure the property and do the restoration side of it, as well.
Water Department
Specializing in insurance claim restoration, fire damage restoration and emergency services, Paul decided to expand the company by creating the water department. The water department would go to a home or business to extract and dry out water that was caused from a burst pipe, rain water collected in the basement or crawl space, sump pump failure, etc. After creating the water department, Paul and Randy, the Operations Manager, talked about how moisture and water could lead to mold issues. With the water department already in operation, they thought to add a mold department because some water damage can cause mold.
Commercial Projects Division
Within the past couple of years, Swartz Contracting launched the Commercial Projects Division. They took their residential services such as: water mitigation, board-ups, smoke and odor removal, mold remediation, vandalism damage restoration, wind and storm damage restoration and offered them to commercial customers along with commercial remodeling. Swartz Contracting started as just a general remodeling company back in 1987 and has now transitioned into specializing in emergency services (board-ups, vehicle impacts, storm and wind damage), water mitigation, mold remediation and damage restoration for residential and commercial properties.