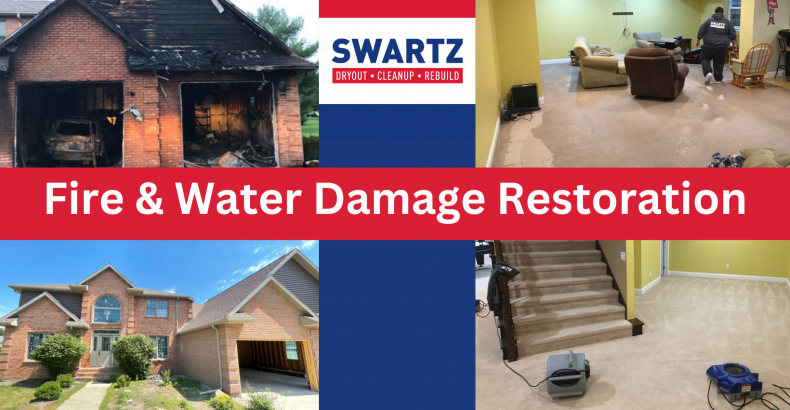 Mixing Restoration with Compassion
At Swartz Restoration, we set ourselves apart from other general contractors by mixing restoration with compassion. Our title for that blend is "We Care."
How "We Care" Defines Our Water and Fire Damage Restoration Company
In the face of unexpected disasters like water and fire damage, the journey to restoration can be overwhelming and emotionally taxing for homeowners. We have seen it many times over the past 35 years. At Swartz Restoration, we understand the challenges that these situations bring, and that's why "We Care" isn't just a motto for us—it's the essence of how we approach every restoration project. With a commitment to guiding our customers through the process with patience and compassion, we ensure that they never feel alone on their journey to recovery.
Understanding the Impact
Disasters such as water leaks or fire outbreaks can disrupt the tranquility and safety of a home in an instant. Beyond the physical damage, the emotional toll on homeowners is significant. At Swartz Restoration, we recognize that the process of restoration is more than just fixing structural issues; it's about restoring a sense of normalcy and peace of mind. It doesn't happen overnight, so we will be patient throughout the whole process to make it easier for the homeowners.
The "We Care" Approach
Our approach to restoration goes beyond technical expertise. We believe that true service entails connecting with our customers on a human level. Our skilled professionals not only have the necessary training to handle water and fire damage cleanup and restoration but also possess the empathy required to understand our customers' concerns, fears, and hopes.
When you choose Swartz Restoration, you're not just hiring a restoration company; you're inviting a partner who genuinely cares about your well-being. From the moment you contact us, our team will walk you through every step of the process, ensuring you're informed, involved, and comfortable with the decisions being made–because it's your home, not ours.
Patient Guidance Every Step of the Way
A key aspect of our "We Care" philosophy is providing patient guidance throughout the restoration journey. We understand that every situation is unique, and every homeowner's needs are different. That's why we take the time to listen to your concerns and answer your questions, offering clear explanations without rushing.
Whether it's water damage cleanup or fire damage restoration, we'll work closely with you to develop a personalized plan that aligns with your specific needs and preferences. We'll also help you navigate the insurance side with your agent and the adjuster, easing the burden of paperwork and negotiations, so you can focus on moving forward.
Restoring More Than Just Homes
At Swartz Restoration, we recognize that a home is more than just a building—it's a sanctuary filled with cherished memories. When disaster strikes, it's not just about fixing walls and floors; it's about helping families regain their sense of security and comfort.
As we embark on this restoration journey together, our "We Care" commitment extends beyond the technical aspects. We're here to provide emotional support, lending a listening ear and a guiding hand whenever you need it. Our goal is to make your home whole again, and we'll do so with the utmost care and respect.
Conclusion
In times of crisis, the restoration process can feel like an uphill battle. We believe that empathy and understanding are as essential as technical expertise. Our "We Care" philosophy drives us to be more than just a restoration company; we're your partners in recovery, your confidants during uncertainty, and your advocates for a better tomorrow. When you choose us, you're choosing a team that genuinely cares about your well-being. Together, we'll navigate the restoration process with patience, compassion, and a shared goal of restoring not only your home but also your peace of mind. See what mixing restoration with compassion can look like for you and your family.