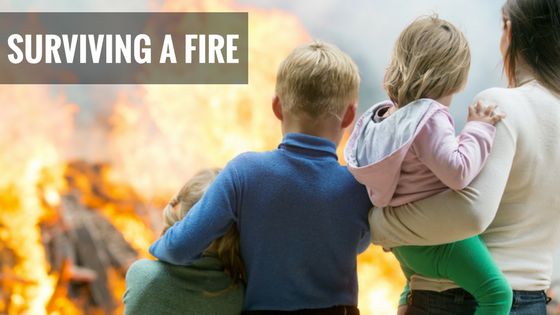 There are few events more frightful than experiencing a fire in your home. To prepare, there are a few things that should be established in every home to help you survive a fire if one should strike your home.
Smoke Alarms Save Lives
Install a smoke alarm outside each sleeping area and on each additional level of your home. Use the test button every month to check that it works properly. Replace all batteries at least once a year, even if the batteries still have life to them. Replace smoke alarms every 10 years.
Have More Than One Fire Extinguisher
Consider having more than one fire extinguisher in your home. A best practice would be to have one available on every floor of your home – so that means if you have an upstairs, main floor and basement, you would have three. It's also a great idea to get training from your local fire department on the proper use of a fire extinguisher.
Plan Your Escape Routes
Determine at least two ways to escape from every room in your home. Consider purchasing portable ladders if you have an upstairs. Be sure to learn how to properly use the ladder by having everyone practice installing and going down and keep it stored near the window for easy access if need.
Determine Your Meeting Place
Have a location selected outside your home where everyone would meet in the event of a fire. Practice makes perfect, so make sure you practice your escape plan at least twice a year.
In the event of a fire…
If you see smoke or fire in your first escape route, use your second.
If you must exit through smoke, crawl low under the smoke to your exit.
If you escaping through a closed door, feel the door with the back of your hand before opening it. If it is warm, use your second way out.
If smoke, heat or flames block your exit routes, stay in the room with the door closed and, if possible block the gap at the bottom of the doorway with sheets, towels or clothing to prevent smoke from entering the room. Signal for help by draping a bed sheet, towel or bright-colored cloth out the window to signal that you are trapped and need help. Be sure to stay near the window. If there is a telephone in the room, call the fire department and tell them where you are in the house.
If a house fire should happen, don't hesitate to call Swartz Contracting & Emergency Services. For more information about our fire and smoke damage restoration services, call 800-462-1024 or 419-331-1024.