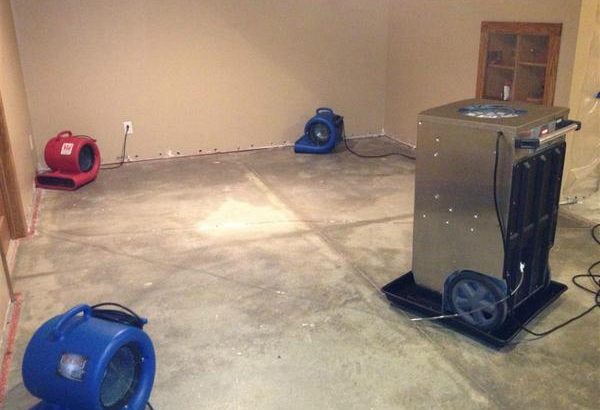 The Drying Process for Water Damage
Busted pipes, leaky roofs, toilet failure… there are all kinds of ways your home can suffer water damage. Whether it's lack of attention or a freak accident the damage can be substantial. Discovering a water loss in your home can be heartbreaking and scary. That's why our water crew makes it a priority to reassure you that you made the right call, and we keep you informed of exactly what will be done each day so you know where we are in the drying and restoration process. Here is what you can expect if you call us for water damage:
Steps To a Water Loss:
Customer calls Swartz Contracting & Emergency Services
Swartz is on site within 2 hours (unless other arrangements are made)
Comprehensive Water Damage Assessment is performed to see exactly how far-reaching the water affected the home or business.
The first area of focus is flooring:
If extraction is needed, this is always completed first (standing water on a hard surface, glue down carpet, or carpet and pad).
If the laminate is affected, this always gets removed to expose the wet sub-floor below.
If hardwood flooring is present, standing water is extracted off of the surface and prepped for Injectidry System (Hardwood Floor Drying System).
If vinyl and underlayment are present, and we feel we cannot dry from underneath, this material is removed to expose the wet sub-floor below.
The next area we focus on is the ceilings:
What are the ceilings constructed of? Drywall? Plaster? Two of the most common…
If they are drywall they will have typically fallen in, and we have to dry the remaining sections of the ceilings, joists, and sub-floor above.
If the ceilings are plaster, then holes are made to allow heat and air flow into the ceiling's cavities to promote a good drying environment.
The next area of focus is on the walls:
If there is wet blown-in cellulose or dense fibrous insulation in the walls, those sections of the wall need to be removed to get the wet insulation out.
If there is fiberglass batt insulation in the walls, then we proceed with the normal drying techniques to dry the wall material and insulation in the wall.
Normal protocol for the drying out of the drywall wall is to remove the baseboards from the affected walls and to drill holes below the baseboard line in each wall cavity. This allows for heat and airflow to get into each wall cavity.
The next focus is on setting the right equipment:
Types of equipment you can expect to see used include air movers, dehumidifiers (different sizes), Injectidry units (for wood floors), air scrubber (large HEPA filter to clean air), Odorox (to eliminate any odors such as mustiness, smoke, etc…), E-TES (specialty electric heater to dry plaster walls), and instruments that read the different moisture content within building materials and air.
Monitoring:
Next is daily monitoring of the drying progress (moisture map created, psychometric readings of the air, and daily updates to the customer of the drying progress)
Job is complete!
If no repairs are needed, then all affected flooring that did not need to be removed gets cleaned (carpet, vinyl, ceramic tile, etc.).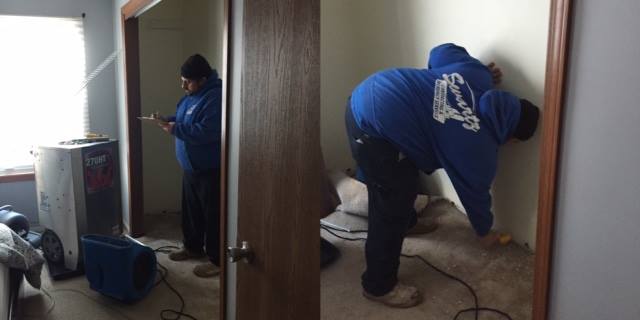 When it comes to water damage, time is of the essence. It doesn't take long for mold to become a problem. Our team will respond quickly to a water loss in an effort to save and mitigate as much as possible. Proper drying and using appropriate equipment by a professional will ensure moisture levels are normal to get you back to normal faster. For more information on water damage cleanup click here or contact us with any questions.