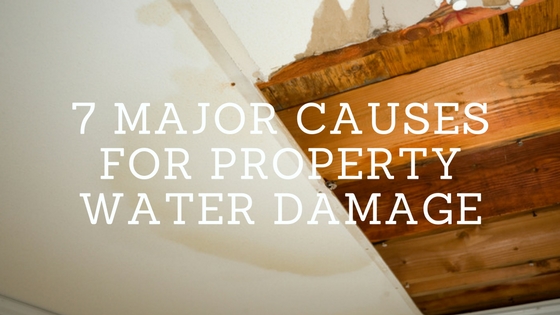 7 Major Causes for Property Water Damage
Water damage to a property happens. Some damage can be avoided, while others can't. Here are the top 7 causes for property damage:
Defective Fixtures and Appliances
One of the major causes of water damage is bad fixtures and malfunctioning appliances. The damage from faulty fixtures and appliances can bring to a household or business can happen suddenly and the resulting damage can be vast. Our recommendation is to take the time to regularly check anything that has a water source running to it; such as refrigerators, dishwashers, washing machines, and water heaters. Carefully examine fixture threading, hoses for cracks and drains for blockages.
Faulty or Damaged Plumbing
Similarly to defective fixtures and appliances, faulty plumbing can leave you with a big mess real quick. Busted pipes, sewage backup, and sump pump failure are all examples of plumbing situations that can lead to water loss.
Faulty or Damaged Construction
If a structure is under construction, water damage can easily happen if contractors don't utilize best practices, especially if the structure is open to the elements. Failure to properly roof, install windows or seal a structure will only invite water and moisture to seep through which can lead to a compromised structure and mold.
Another faulty construction that can lead to water loss is improper wiring causing a fire.
Accidents or Negligence
Let's face it, it's really easy to ignore that drippy plumbing under the sink. The problem with ignoring (or not even noticing), is that small leaks, slow draining or whatever else isn't running or looking the way it should, can turn into BIG problems. So if you notice something off, be diligent and take a closer look to see if your attention is needed.
Natural Causes
Severe weather from rain, snow and wind can leave a property flooded and damaged rather quickly. Damage the occurs naturally is almost unavoidable so it is important to know how to react after experiencing a damaging storm. Securing your property from further damage, taking pictures and calling your insurance agent should be done promptly.    
Vandalism
Vandalism as simple as broken windows can cause water damage to property if not properly handled in a timely manner.  
Fire Suppression
In the unfortunate event of experiencing a fire, not only will your home or business suffer from fire damage but it will be greatly affected by water as well. Think of the hundreds of gallons of water that is required to extinguish a fire. After the affected building is cleared for entry, application of applied structural drying principles and procedures to mitigate the water should begin ASAP to limit further loss.  
After experiencing any sort of water damage to a property, timing is everything and it is important to  start the restoration process quickly to avoid further damage. Hiring a restoration service that specializes in water mitigation will ensure that the damage is properly cleaned, dried and returned to its pre-loss condition.
As always, Swartz Contracting & Emergency Services in Lima, Ohio can help guide you through the challenging insurance claim repair process and make the necessary repairs to your home or business.