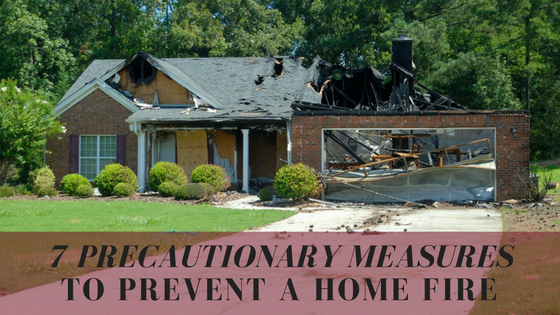 7 Precautionary Measures To Prevent A Home Fire
According to the U.S. Fire Administration's report on residential fires, in 2014, the national average of home fires was 379,500 which resulted in 2,765 deaths, 12,075 injuries and cost about $6.9 billion. Additionally, there is a 1 in 4 chance that your household will report a home fire and even more frightening, a 1 in 10 chance that someone in your household will suffer a fire-related injury.
So what can you do to prevent a home fire from happening to you? It's all about preventative and precautionary measures. Here are 7 precautionary measures you should take to prevent a home fire:
Smoke Alarms
About 64% of residential fire deaths occur in the 14% of U.S. homes that do not have smoke detectors. A working smoke detector doubles a person's chance of surviving a fire. So if you're home doesn't have any smoke detectors, get them. And when you do be sure to:
To put smoke detectors on every level of the home and inside and outside each sleeping area.
Test and clean all smoke detectors once a month.
Change the batteries every year. Tip: A good way to remember is to change them every year during daylight saving time changes.
Replace smoke detectors every 10 years.
Cooking Safety
Fires as a result of cooking account for nearly 50% of home fires. When in the kitchen, be sure that:
Your cooking area is free from items that can catch fire.
Kitchen stove hood is clean and vented to the outside.
Pots are not left unattended on the stove.
Electrical & Appliance Safety
Electrical and appliance fires amount to nearly 11% of home fires. Here are some precautionary steps you should take ensure everything is in working order:
Do not run electrical cords under rugs.
Check every couple of months that electrical cords are not frayed or cracked.
Use circuit-protected, multi-prong adapters for additional outlets.
Large and small appliances are plugged directly into wall outlets.
Clothes dryer lint filter and venting system are cleaned out regularly.
Candle Safety
Candle fires result in about 3% of home fires. If you are using candles, take special care and attention to the following:
Candles are in a sturdy fire-proof container that won't be tipped over.
All candles are extinguished before going to bed or leaving the room.
Children and pets are never left unattended with candles.
Smoking Safety
While smoking only causes 2% of home fires, it accounts for almost 13% fire-related deaths. If you or a family member smokes be sure to:
Buy fire-safe cigarettes.
Smoking is done outside.
Matches and lighters are secured out of children's sight.
Ashtrays are large, deep and kept away from items that can catch fire.
Ashtrays are emptied into a container that will not burn.
Heating Safety
Heating your home accounts for 12.5% of home fires. To prevent this necessity from causing a fire, be sure the following are done:
Chimney and furnace are cleaned and inspected yearly.
Furniture and other items that can catch fire are at least 3 feet from fireplaces, wall heaters, baseboards, and space heaters.
Fireplace ashes are placed outdoors in a covered metal container at least 3 feet from anything that can catch fire.
Extension cords are never used with space heaters.
Heaters are approved by a national testing laboratory and have tip-over shut-off function.
Home Escape Plan
Finally, you should have a home fire escape plan established. When creating your plan:
Have two ways out of each room.
Crawl low to the floor when escaping to avoid toxic smoke.
Know that once you're out, stay out.
Know where to meet after the escape.
Meeting place should be near the front of your home, so firefighters know you are out.
Practice your fire escape plan.
Fires are devastating and no one ever once to experience the amount of loss one can cause. Take these preventative and precautionary measures seriously to help keep your home safe from fire.
Sources:
http://www.nfpa.org/news-and-research/fire-statistics-and-reports/fire-statistics/fires-in-the-us
https://www.usfa.fema.gov/downloads/pdf/statistics/res_bldg_fire_estimates.pdf