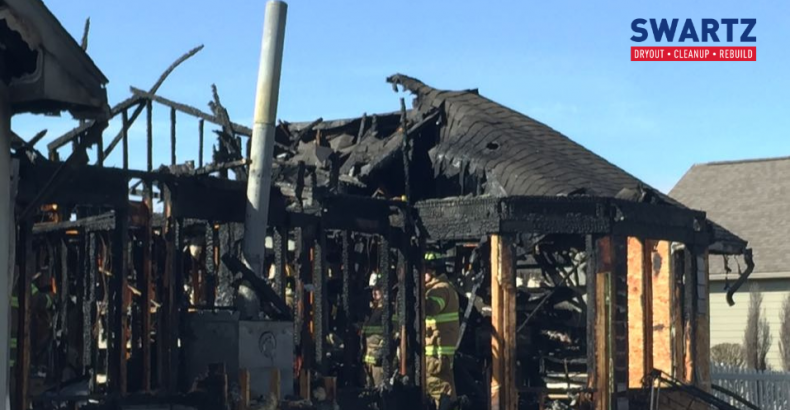 Fire Restoration Services
Few events can be as devastating to a family or business owner as a fire.
This experience can leave you feeling overwhelmed, stressed out, and unsure of what to do next.
Swartz Restoration has restored hundreds of fire losses since 1987.
We will help you take the necessary steps to get life back to normal after a fire-related disaster.
We possess the skills, specialized equipment and internal systems necessary to return fire-damaged structures back to pre-loss condition quickly.
Because of the fire extinguishing process, every fire loss is also a water loss, which creates a wide variety of technical challenges.
From initial board up to the last detail, Swartz Restoration handles every aspect of the restoration process as one point-of-contact.
We focus on mitigation first.
That means we'll do everything we can to restore your property back to its pre-loss condition using restorative cleaning and restoration techniques, instead of resorting to reconstruction first.
This approach helps us to get the job done, not only faster, but at the lowest possible cost.
If reconstruction is necessary, we will handle the loss from start to finish.
We are experts at removing the most difficult and persistent smoke odors, as well as providing the kind of restorative cleaning required to return property and contents to pre-loss condition.
Our Fire Restoration Services include:
– Board up and/or installation of protective roof covering to secure the property and protect it from further damage.
– Careful assessment of the damage.
– Creation of an action plan for the mitigation and reconstruction.
– Assistance navigating the restoration process with your insurance company.
– Involvement of our expert project management staff to ensure the project is scoped properly and completed on schedule.
– Application of The Applied Structural Drying principles and procedures to mitigate the water damage caused by extinguishing the fire.
– Use of a variety of highly specialized techniques to remove soot damage and guaranteed to eliminate smoke odors!
– Full range of in-house reconstruction services to handle any necessary rebuilding.
If a house fire should happen, don't hesitate to call Swartz Restoration & Emergency Services.
For more information about our fire and smoke damage restoration services, call 419-331-1024.