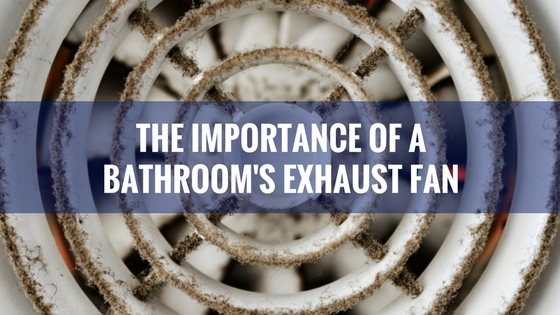 The Importance of a Bathroom's Exhaust Fan
Think of all the hot showers and steam that a bathroom has to endure. All of the excessive moisture that builds up in the bathroom is an invitation for mold, mildew, bacteria and even insects to move right in. That is why an essential in every bathroom is a properly functioning exhaust fan. From preventing unwanted odors to protecting your health, that little fan up in the ceiling does a lot. Here is a breakdown of the importance of a bathroom's exhaust fan:
Helps to Reduce Humidity and Moisture
The main purpose of a bathroom's exhaust fan is to remove the moisture that is in the air. It does this by drawing out the humid air and replacing it with drier air. This is vital to create a bathroom environment that is mold and mildew free, in addition to, protecting all the materials and surfaces that make up the bathroom (more on that later).
Improved Air Quality
To keep a bathroom clean, harsh chemicals are typically used. These chemicals can be dangerous when inhaled and lead to a variety of health issues. That is why it is recommended that while cleaning and 10-15 minutes after your done cleaning, you turn your exhaust fan on to help vent those chemicals out.
Additionally, a vented bathroom will help a bathroom that already has a problem with mold. The fan will move the air around, removing the buildup of mold spores in the air, helping to slow down the growth rate.
Lessens Bathroom Odors
Let's face it, odors in a bathroom happen and can come from a variety of sources. An exhaust fan will help to draw that stink in the air up and out of the room making it pleasant for the next occupant.  
Prolongs the Life of Your Bathroom
Consider all the different surfaces in your bathroom — walls, ceiling, trim, vanity, metals, etc. — and how a buildup of moisture (which results in the growth of mold and mildew) will affect those surfaces over time. If a bathroom does not have a proper ventilation system, then the prolonged exposure to excessive moisture will cause the paint to peel, the wood to rot, metal to corrode and the walls to decay. The regular use of a properly functioning exhaust fan will help to protect the structural soundness and prolong the life of your bathroom; saving you money in the long run from having to do a remodel to fix a moisture-damaged bathroom.
Keeping Your Exhaust Fan Clean
Because an exhaust fan pulls air up and through the fan, the buildup of dust on the cover and fan over time is quite common. That is why it's important to regularly clean your exhaust fan every six months to ensure its functionality and longevity. Here are some tips to clean your vent:
Turn the power off at the circuit breaker.
Remove the cover and wash with soapy water.
Use a small brush or vacuum cleaner with a brush attachment to remove the dust and other buildups from the fan blades, motor and other spots inside the fan unit.
Wipe the fan blades down with a wet rag.
Dry all part before putting everything back together.
Remember that your exhaust fan should be running every time hot water is being used and should remain on 15-20 minutes after to ensure that the moisture in the air is vented out.