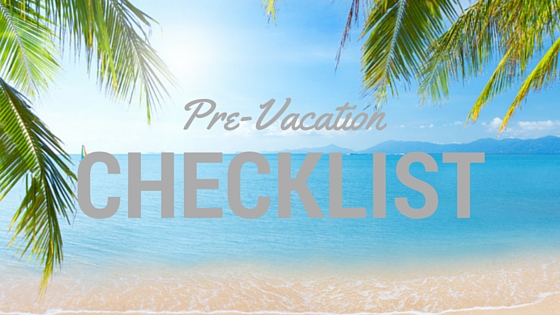 You have planned for over a year and it's finally vacation time! Just because your bags are packed doesn't mean the work is done; there's a little more planning that needs to happen before you leave. It is important to be sure that your home is properly prepped and ready for you to be gone for an extended amount of time. Here is our "pre-vacation checklist" of things you should be mindful of doing before you leave:
Hold your mail and newspaper.
This can be a #1 tell to potential burglars that you are out of town.
Let your neighbors know.
Giving your neighbors a heads up that you will be gone can be an added layer of security for your house. They can keep an eye out for anything suspicious and will maybe even water your plants while you're gone!
Notify alarm company.
If you have an alarm system, it's a great idea to let them know when you will be gone and if anyone will have access to your home.
Notify local police.
Some police departments will do home checks while you are away to check for suspicious behaviors.
Alert your credit card company that you will be traveling so your credit card activity doesn't get flagged for potential fraud.
Check your sump pump
Be sure it is working properly. If a lot of rains comes while you are away and your sump pump fails, you could be coming home to a flooded basement. (Check out our easy maintenance tips for your sump pump.)
Shut water off.
If you would prefer not to shut off water to the whole house, at least consider shutting the water valves off for your toilets, washing machine, ice maker and dishwasher.
Turn down your water heater.
While you are away, you should turn down or shut off your water heater. Some water heaters will have a vacation mode that you can change it over to.
Adjust the thermostat temperature.
Depending on the time of year your vacation is scheduled for, you should adjust the thermostat. We suggest setting the thermostat for the upper 70s in summer and upper 50s in winter.
Unplug electronics.
Not only will this help you save energy and money while you're away but in the event of a power surge, this could save your electronics from getting ruined.
Finish your laundry and dishes.
Not only will you be doing yourself a favor to have all your laundry and dishes done before you go, but letting these items sit for long periods of time can get stinky.
Shut, lock and cover windows.
For security purposes, you should shut, lock and draw the curtains for all windows.
Sprinkle a little baking soda
Down your drains and in your toilets to help avoid the stench of stagnant water.
Properly preparing your home for an extended time away will give you peace of mind that your home will be as you left it when you return. Once you've completed the above recommendations, then it's officially time to get in vacation mode.
In the unfortunate event that something does happen to your home while you're away, Swartz Contracting & Emergency Services will be there to restore your home. For more information on our services feel free to contact us with any questions!