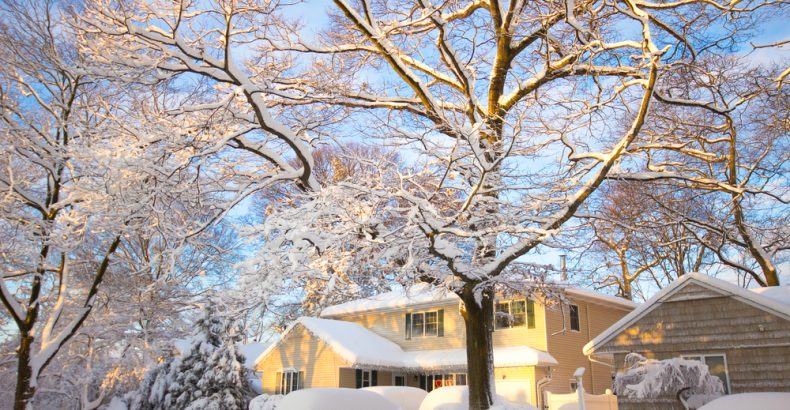 The Why and How of Winterizing Your Home
Winter will be here before we know it, and you know what that means: cranking up the thermostat, longer nights, and wet weather are ahead. Even if the winter is mild, you'll still want to prepare for cooler temperatures. Here are important reasons why you should winterize your home, and how it can be done.
Heat is not cheap
Surely both safety and saving money are important to you. Make sure you are not losing heat; since heating your home is expensive, you don't want to be letting it get out. If you think your house is losing heat, do this self-test: wet your hand and run it along the trim of your interior windows and doors. If you feel a breeze, fill those gaps with caulk.
Keeping your windows tightly locked will not only keep the thieves away but also prevents your window from being accidentally cracked.
Make sure your heat ducts are both properly insulated and connected.
When you're not using the fireplace flue, keep it closed.
Prevent darkness
Now's the perfect time to check and replace the lightbulbs outside of your home since the nights are getting longer. Having good outdoor lighting can prevent people from tripping over things and will scare off burglars.
Prevent carbon monoxide poisoning
Carbon monoxide poisoning is a hazard associated with winter. Carbon monoxide is an odorless gas that is produced by fuel-burning appliances. The amount of CO2 is not usually anything to worry about as most of it will be vented outside. Having a dirty furnace will create dangerous amounts of CO2. Get your furnace serviced every fall so you can have peace of mind that everything is working properly and safely. Installing carbon monoxide detectors in your home is also a good idea if you do not have any already. Ideal spots are near the furnace and your water heater. Change the batteries of the CO2 detectors when you change the batteries for your smoke detector(s).
Prevent fires
Winter is the worst time for house fires. The most important winterizing task is to check the batteries of your smoke detector(s) and replace them. Along with changing the batteries, test the smoke detector(s) to ensure they are updated. These should be replaced every 10 years.
For those with fireplaces or wood stoves in their homes, the chimney should be checked annually and cleaned to remove soot and creosote; creosote buildup can cause a fire. It is a good idea to put a cap on the chimney to keep debris from blocking the chimney flue.
Prevent water damage
To avoid your pipes becoming frozen and bursting, you need to keep water moving. There are a few ways to do this:
Insulate water pipes in the unheated areas of your house.
Purchase a freeze alarm – these automatically checks the temperature of your home and it will let you know if the temperature is too low.
Wrap kitchen and bathroom pipes with insulation, or if you can, leave the cabinets open so warm air can move through
Set your temperature to 55 degrees or higher.
It is important to remember when you're winterizing to turn off the valve that carries water to any exterior faucets and drain the faucets, hoses, and sprinkler lines, as well as any hoses coming from your A/C. If there is a water valve for your A/C, turn this off also while you're winterizing your home.
Clean leaves from your roof and gutter before autumn ends. If you don't, water will be backed up and will damage your roof. Now is also a good time to check for gutter leaks or misaligned pipes and point the downspouts away from the house to avoid flooding or damage. Check your attic to make sure it is properly insulated, and it is a smart idea to weather-strip your attic door. This will save energy and prevent drafts.
Taking care of these things now before they become an issue will ensure you have less to deal with in the dead of winter. It's better to be prepared for as many of winter's surprises as possible so the stress doesn't add up later.
Did you know Swartz Contracting & Emergency Services can help with fire restoration and water damage projects? For more information, contact us today!