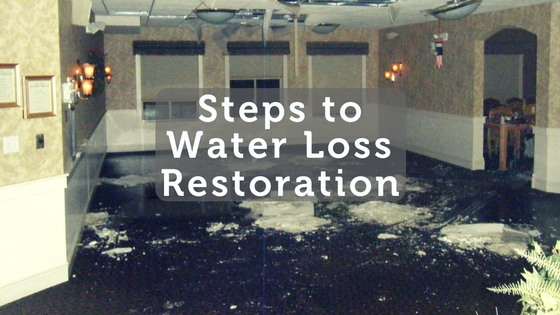 Steps to Water Loss Restoration
Experiencing any amount of water damage, whether it be a busted pipe or flooded basement, is an overwhelming experience and it's tough to know where to start. We suggest, that it is best to start with a call to a professional in restoration and water mitigation services to help guide you through the process. A professional will not only help you to get the water cleaned up but will also help with your insurance claim and the restoration of the affected areas to pre-loss condition. It's important to know that your water loss is being handled seriously and with the utmost care. That is why we have found the best way to handle any water loss restoration is to approach it with the following steps:
Initial assessment and action.
When we first enter a water loss situation, we first survey the area for any signs of compromised structural integrity or if there are any obvious health hazards. It's crucial to know your surroundings and what you are getting into so that you may be prepared with the necessary equipment to ensure everyone's safety if needed.  
Identify the level of water contamination.
Contaminated water can make a person very sick if it's not handled properly, that is why it's important to categorize the level of water contamination. We rate the water off of 3 categories:
Category 1: Clean water
Category 2: Gray water
Category 3: Blackwater
Obviously, the higher the category, the worse the water and contamination level. For more detail on the different levels of water contamination, check out this blog.
Inspection and evaluation.
During the inspection and evaluation phase, a full and thorough up and down look is given to the whole area. This includes determining the extent of damage to the floor and any other objects or items that have been affected by water, get a full understanding of how much moisture we will be dealing with in both the air and the structure, investigating any potential shock hazards or gas leaks, look for any chemicals that could be stored, and finally assess the area for any slip or fall hazards.
Control the water source.
In the case of a busted water line or leak, shutting the water off is a priority. In most cases, the assistance of a plumber is usually needed.
Establish and reach drying goals.
The goal is to extract all the water, completely dry the structure and have the relative humidity reach 40%. Ongoing inspections throughout the entire restoration process will continue to ensure drying goals are being reached.
Evaluate contents.
After the round of evaluations is done, a second round is done assesses damage done to any secondary contents and pre-existing conditions, like pet stains on the carpet for example.
Determine the job scope.
After all inspections and evaluations are done, we determine the job scope. This means figuring out all of the materials and other components that will be a need in order to restore your property back to pre-loss condition.
Build customer communication process.
The final step is the customer briefing. It's important that you as the customer knows exactly what is going on in your property and the steps that need to be taken to keep you and the structure safe. We want you to be well informed and have a clear expectation of the services you will be receiving. Building your trust is an honor and a priority, so full disclosure is always our policy.
Not only does following these steps ensure that we don't miss anything, but it also ensures that you receive the best service and care before the restoration work even begins.
For more information about our services visit give us a call at (419) 331-1024.