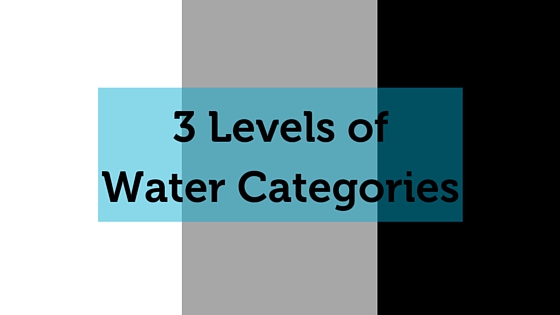 3 Levels of Water Categories
Typically, the first step in any water restoration processes is to identify the contamination level of the water. This level of water contamination is broken down into three categories: Category 1, Category 2 and Category 3. The category classification will determine the proper route to restoration and gear that is involved in that process.
Category 1
Category 1 is identified as "Clean Water". Clean water comes from a sanitary water source and does not pose a considerable risk if the water comes into contact with your skin, is ingested or inhaled. This water is pretty clear of any materials and contamination. Typically, this water comes directly from a water line through the form of broken pipes, plumbing fixtures or overflowed toilets.
Category 2
Category 2 is identified as "Gray Water". Gray water contains a significant amount of contamination and has the potential to cause health issues and sickness if the water comes into contact with your skin, is ingested or inhaled. This water usually comes from a dishwasher, washing machine, or toilet overflow; however, does not contain feces.
Category 3
Category 3 is identified as "Black Water". Blackwater is sourced from sewage backup, storm surge from seawater or from overflowing streams and rivers. This water is highly contaminated and poses serious health risks to anyone who comes into contact with it. Blackwater carries mold, bacteria, and viruses such as e.coli, giardia hepatitis, and salmonella (among many others).
The handling of this water should be done so with extreme care and caution. To minimize your risk of exposure and infection proper gear such as rubber boots, gloves, goggles and face masks for respiratory protection should be worn at all times.
The best and most effective way to handle any water category is to call in the professionals. Having a professional service handle the cleanup of contaminated water will ensure that a trained professional with specialized and commercial equipment will be handling the damage safely. Additionally, your health will be ensured because proper techniques and sanitation of all affected will be restored to pre-loss condition. Finally, the use of a professional company will provide clear communication with you and your insurance company to ensure that all claims are made as quickly as possible.
As always, Swartz Contracting & Emergency Services in Lima, Ohio can help guide you through the challenging insurance claim repair process and make the necessary repairs to your home or business. Feel free to contact us 24/7-365 at (800) 462-1024!