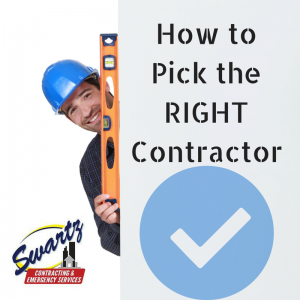 5 Signs of a Trustworthy Contractor
No one expects disaster to strike. And no one expects a contractor to burn them in an already terrible situation. You hire a contractor to get you back to normal, trusting they will do what you hired them to do. And if it's not asking too much, provide some pretty darn good service because you've been through a lot already.
Here are 5 things to consider when hiring a contractor you can trust:
Experience.
You want the contractor to have plenty of experience handling projects like yours. Additionally, do they have reviews available, a list of local jobs completed, references to contact, or a portfolio for you to view?
Keeping Their Promise.
Does their warranty exceed how long they've been in business? This is a red flag. It's hard to tell if they'll be around to honor the warranty if they have not been in business long.
They're Legit.
Meaning, they have the required licenses and certifications. It's important to make sure they meet all requirements and that they carry liability insurance and workers' compensation just in case there is an accident on your property. If they possess multiple well-known certifications, you know they have proven themselves and jumped through the necessary hoops to earn them. That's a really good thing.
How They Rate.
Check to see if they are notorious for any bad behavior or project management by doing a little research. Check online for reviews, check the BBB for rating or complaints, Yelp, Angie's List, or ask your friends or neighbors what they've heard.
Service.
This should be a priority. You want a contractor who cares, one with a heart. We're not saying they should send you flowers, but they should be accessible, willing to answer any and all questions you have and take the time to explain everything to you. In no way should you feel pressured by your contractor either. If they try to push you to make a decision with which you're not comfortable, that's a big no-no. Good service means they listen to you and address your concerns carefully.
When choosing the right contractor, use your common sense and if you have a bad feeling, follow your gut and their reviews. A bad reputation means it's likely you'll get burned. On the other hand, if most of their reviews are great and they meet or exceed everything mentioned above, you've probably found yourself a gem.
As your full-service restoration contractor, we focus on service because we know going through a disaster turns your life upside-down. We're not just here to clean it up, we go a step further and do what it takes to get you back to pre-loss condition making us your one-stop emergency shop. We're here 24/7/365, to respond when you need us and get you back to normal as quickly and smoothly as possible. Our history, experience, and accreditations prove we're experts in our field. For more information or to request a quote, click here.