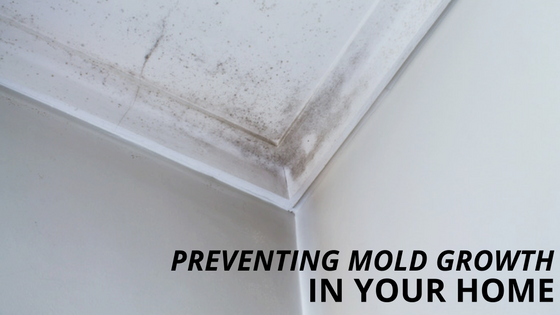 Preventing Mold Growth in Your Home
The winter months can be one of the best times of year for mold to grow. Often mold is contained near water sources where it is easy for it to grow and reproduce and as it grows it can break down and compromise the area where it lives. During the winter months, tracking in wet snow to melt or the increased condensation helps to create that perfect environment for mold growth.
Mold can grow anywhere from carpet to paper and in places you can't see such as the back of drywall or around ceiling tiles. Mold is a problem that can be difficult and expensive to fix as well as produce allergens and irritants that can compromise the health of you and your family. The best thing is to prevent mold before it becomes a problem and the key to that is moisture control. Here are our tips to prevent mold growth in your home:
Know where problem areas are and correct them.
If your basement floods, have the carpet dried out professionally or explore other options that are more mold resistant such as decorative concrete.
Have you noticed a water stain on the ceiling from a leak?
Whatever the problem is, address it now before it becomes a costly repair down the road to rid your home of mold.
Dry wet areas immediately.
Mold grows in moisture, dry out wet areas right away.
Wet basements after rain, a leaky pipe, and even a carpet spill should be dried within 48 hours.
If you have a flood, remove all water-damaged furniture, bedding and carpets if not able to be completely dried.
Proper ventilation
Make sure that while you're cooking dinner, taking a shower or doing laundry that these areas of the home have proper ventilation. Your bathroom, kitchen and laundry room typically have high amounts of moisture in the air so making sure proper air flow in these rooms is key.
Be sure to vent appliances such as clothes dryers and stoves that produce moisture. Make sure the vent goes to the outside and not to the attic
Use AC units and dehumidifiers (especially in humid climates), but make sure they don't produce extra moisture. Periodically check them and clean as directed by the manufacturer.
Water outside of the home.
If the ground around your home is not sloped away from the foundation, water may collect and seep into your crawlspace or basement. Make sure to direct the water away from your home.
Clean and repair gutters as mold can come from a roof that is leaking from full or damaged gutters. Keep an eye out for water stains after storms that may be a sign of a leak.
Keep mold off household plants.
Household plants are beautiful and help keep the air in your home clean, but mold loves them. The soil in indoor plants is a great breeding ground for mold and that can spread to other areas of your home. Don't get rid of your plants, add a bit of Taheebo tea (from a natural food store) to the water as the oil from this tree withstands fungi in rain forests and prevents mold in plant soil.
When dealing with mold, prevention is always the best first step. If you have questions or concerns with mold in your home, give the professionals at Swartz Contracting in Lima, Ohio a call today!