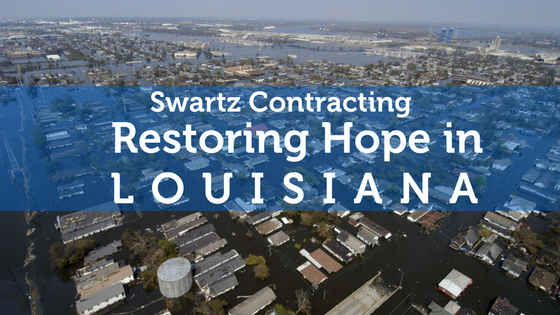 Swartz Contracting Restoring Hope in Louisiana

We have partnered with Impact With Hope as an official drop off location to collect supplies for the victims of the devastating floods in Louisiana. We will be collecting items until Thursday, September 22, 2016. All donations can be dropped off between the hours of 8 am to 5 pm in the Swartz Contracting office at 2622 Baty Rd. Lima, Ohio 45807. Please consider making a donation to help us in this effort!
The following items are needed most:
Non-perishable food items
Personal hygiene items
Shovels
55-gallon plastic bags
Hand tools
Gloves
Supplies for clean-up
Tarps
Blankets
Flashlights & batteries
Diapers
Monetary donations are also being collected. You can make a 100% tax-deductible donation at: http://www.impactwithhope.org/
For a complete list of needed supplies visit: http://www.isohimpact.org/what-we-do/the-bucket-brigade/
Thank you for your help in restoring hope in Louisiana!