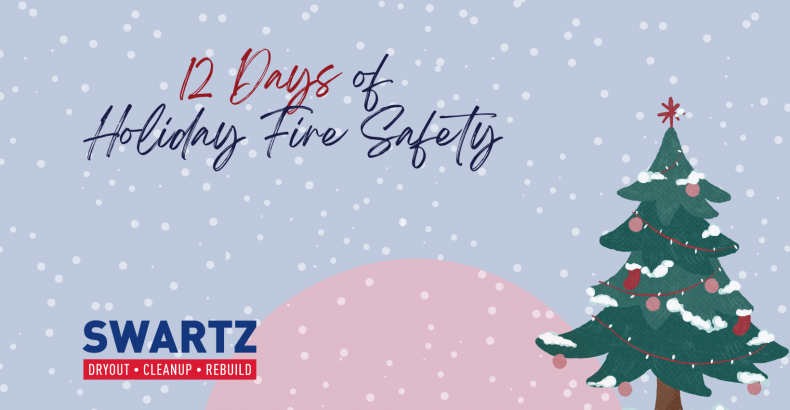 12 Days of Holiday Fire Safety
On the twelfth day of Holiday Fire Safety, my true love warned me to check…
As we approach the holidays, let's take a little time to ensure we remain safe from a fire.
These are the 12 Days of Holiday Fire Safety!
12…my Extension Cords!
If extension cords are overloaded with holiday lights, they can overheat and catch fire.
Avoid overloading the cords by reading over the packaging to find the maximum load.
Do not hide extension cords under rugs or blankets. That will make them overheat quickly.
Connecting cords together can overload the fuse, and even affect the brightness of your lights.
11…my Candles!
Candles can be a big part of your holiday traditions as you light a candle and share a reading together.
Candles can also add a holiday scent to your home, creating lasting memories together.
Where you place your candles, makes a big difference! Always keep your candle at least 12 inches away from anything that can burn.
According to the National Fire Protection Association, one out of every three candle fires starts in a bedroom.
Never leave lit candles unattended, and always be sure to put them out before bed.
10…my Fireplace!
As you hang your stockings with care, put this on your list…and check it twice: inspect your chimney.
Soot can harden inside your chimney, forming a layer of creosote. As creosote builds up, it can ignite from a spark flying up your chimney. Chimney fires often spread to the rest of the house!
Have an inspector ensure that Santa can slide down easily, and to remove the risk of a chimney fire.
9…my Christmas Tree!
Our beloved Christmas trees can smell so lovely this time of year. Some of us have real trees that we cut down, while others of us spray Pine essential oil on our fake trees!
Whether you have a real tree or a fake tree, damaged lights and frayed cords can cause an electrical fire on both.
According to the National Fire Protection Association, one in every three home Christmas tree fires are caused by electrical issues.
One in every four are caused by a heat source too close to the tree.
So keep candles at a safe distance from the tree, and make sure your cords are not overloaded.
8…my Light Displays!
Before you decorate your home like Clark Griswold, check and make sure your lights have no frayed wires or broken bulbs.
Leaving lights up for extended periods of time outside can allow them to get damaged by the weather.
Just like your extension cords, be sure not to connect too many together.
It can overload the fuse and cause your lights to dim.
7…my Cooking Safety!
Many American delicacies can be made with a deep-fryer!
When using your deep-fryer this holiday season, use it outside, on a flat surface, and at least 10 feet away from any structure.
Whether cooking outside or inside, keep an eye on the kids playing. Throwing a football into the deep-fryer can burn someone severely from the splash.
A hand placed on the hot stove to regain balance can lead to severe burns as well.
6…my Kids with Fire!
Kids can enjoy the privilege of lighting the holiday candle. Keep an eye on them while they do it.
The number of fires caused by children goes up significantly during the holidays.
Teach them how to be safe with fire, and always put fire-starting materials in a safe place.
5…my Space Heaters!
As the temps dip colder around the holidays, many turn to space heaters for an extra boost of warmth.
Be sure to keep your space heaters away from anything flammable, especially when you are walking out of the room or going to sleep.
One tip is to use a space heater with a built-in shut off switch whenever it gets tipped over.
4…my Smoke Alarms!
We forget about those small white circles on our ceilings and walls, until we need them.
If you're in the habit of using your smoke alarm as a cooking timer, then you know it works!
Check the batteries to make sure they are ready to alert you and your family during the holidays.
3…my Fireworks Safety!
Fireworks can be a fun way to celebrate the holiday as the New Year approaches.
According to a 2015 report, about 10 percent of fireworks fires happen around New Year's Day.
Celebrate safely, by keeping an eye on children when setting off fireworks.
Always read the safety instructions beforehand.
2…my Oven!
With the desire to serve the holiday meal while it's still piping hot or in the rush to get out the door with the cooked side dishes, we can forget to turn off the oven.
Remember to check the oven to ensure it has been turned off every time before leaving your home and before going to bed.
1…my Cigarette!
Kicking back for a post-dinner smoke could be your way of relaxing, yet do not combine it with your post-dinner nap!
A lit cigarette or cigar can be a serious fire hazard, and it will not be the way you want to remember the holidays this year.
Holiday Fire Safety begins at home.
Review this list with your family to ensure you have lasting memories of your family traditions, not last memories of a family emergency.
Further Reading…
To learn more about fire-causing habits, be sure to read 10 Bad Habits That Cause Home Fires.