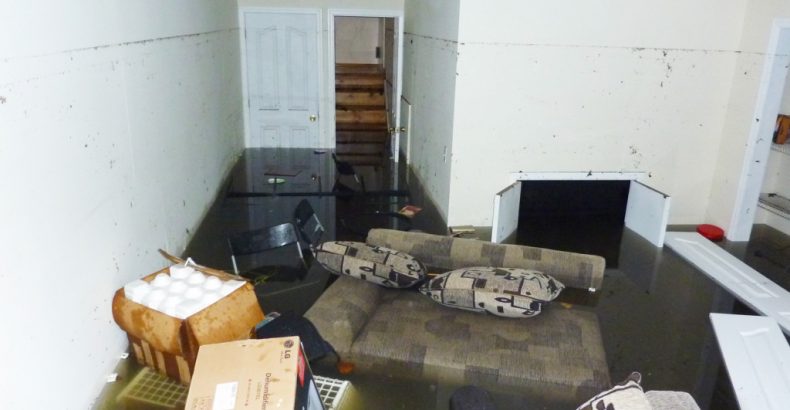 The Most Common Reasons for Water in your Basement
Water damage in the basement is one of the most annoying problems that homeowners face, especially those with finished basements. There are some common causes of water in the basement and understanding the reasons why it happens may help prevent future problems. Take a look at the following common causes for water in your basement.
The most common reasons for water in your basement:
1. Bad Location
2. Broken or Bad Seals
3. Clogged Gutter
4. Sump Pump Failure
5. Sewage Backup
Bad Location
Unfortunately, the home of your dreams isn't on the good ground and you suffer from water in your basement every time there is a solid rainstorm.  In order to help deter some of the water from your basement due to your home being built in a lower part of the property, you can install a backup sump pump or backflow valves.
Broken or Bad Seals
Your basement may not have been sealed properly at the time it was built, but don't worry because this is something that can be fixed once you realize what is causing the water in your basement. Calling a professional to reseal your basement is the best bet to prevent any future leaking.
Clogged Gutter
 If you have time you can check your gutters on a regular basis to clean them out from debris. Otherwise, check them at least twice a year. The purpose of your gutters is to direct the water away from your home. Gutters should carry the water at least six feet away from your foundation. If your gutter is still not working properly after you clean it, you may want to consider replacing it for optimal use.
Sump Pump Failure
Just like any other device, your sump pump may fail at the absolute worst time causing a backup of rainwater in your basement. You should consider having a backup sump pump in cases where your main pump cannot keep up with the amount of rainwater coming in.
Sewage Backup
If your sewer is full, that could mean bad news for your basement the next time it rains. When the sewer is full, the water level could rise above the sewers pipes causing the sewage to flow towards your home. However, newer homes tend to have storm sewer laterals to help with draining the excess water out.
If your home has a history of water in the basement, you may want to consider ceramic tile for easier cleanup. We recommend you have an insurance policy in place to cover any damage caused by water backup. Talk with your insurance agent about the options that you have for water backup coverage. Taking the necessary precautions may save your basement and belongings from total loss next time you experience heavy rain in your area.
*Swartz Contracting does not deal with sewage damage. It is a hazardous substance that we are not certified to handle*
For more information on water damage cleanup and repairs click here or contact us with any questions.